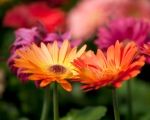 You would like a beautiful garden to relax in, but it's tough when you're on a budget. Budget gardening means being creative and having some fun as well as being frugal.  Try our tips to save money on your garden this year. Let us know how you get on!
1. Create a Plan
By creating a seasonal plan for your garden, you can organize your planting choices across the year and won't be tempted to overspend! BBC Plant Finder has a
fantastic free gardening calendar
 where you can plan your daily or weekly gardening tasks across the year. Look at what plants are coming up over each season and see what the priority areas are in your garden. Before you buy a rake of new bulbs for next year, look at the existing bulbs in your garden and see if you can get more life from them by dead heading and feeding and watering them. You may get some beautiful flowers for years to come with some elbow grease!
Picture from www.marthastewart.com
2. Get Some Gardening Buddies!
A group of gardening pals with whom you can share advice, seeds and cuttings  is a great help when gardening on a budget. Many garden centres offer multi-buys or special offers when you buy in bulk so group buying can get you a better unit price if you can't use all the gardening supplies yourself. Chip in with friends or neighbours to buy gardening tools you seldom use and take turns to save money. Each gardener has their own strengths and skillsets so you could barter your time with a friend and work in each others gardens. It could be interesting to see the results! Allotments are a good way to socialize with fellow gardeners and you could share or swap cuttings and produce too.  It's great to make new friends with the same interest and you can share your gardening woes...and joys!
Picture from gardening.about.com
3.Grow From Seed
Save money and get more plants! Growing from seed is cheaper and you can enjoy an abundance of colour in the garden across the seasons. You don't need to use a full packet of each seed variety each season and can easily keep back some seeds for next year to save money. Why not get together with friends and swap seeds to grow your collection? Another benefit is that you can sometimes get more unusual plant varieties from seed that may not always be readily available.
Picture from homegardenseedsorganic.com 
4. Compost, Compost, Compost!
It's known as 'Gardener's Gold' and is the best fertilizer in the world.  This rich, dark material helps improve soil quality and enables plants to thrive. Compost is a great way to make use of your household waste, is free of charge and is beneficial in growing beautiful, healthy plants. Another good fertilizer for the garden is horse manure. Why not get to know your local horse riding centre and see if you can get a steady supply of manure for your garden?
5. Get Expert Advice….For Free!
If you're on a gardening budget, forget about expensive gardening books, our friend 'the internet' covers everything gardening related from A-Z!  One of our favourite websites is 
Garden.ie
 which has a gardening club and an 'Ask Gerry' section where you can quiz its founder Gerry Daly on everything from lawn care to bedding roses. The 
RHS
 and 
BBC Plant Finder
 are two treasure troves with plenty of advice to hand including 'Plant of the Month' and seasonal gardening 'to do lists.' If you prefer to sit down with a book and relax, the 
Royal Horticultural Society of Ireland
 has an excellent library of over 800 books (you do need to be a member) or you could visit your own local library, which is free of charge. Get to know the staff at your local garden centre who often have a wealth of knowledge about gardening and often include horticulturalists. And don't forget to sign up to
Powerscourt Garden Pavilion's monthly e-zine
, packed with gardening advice and tips. We hope you enjoyed our money-saving tips for your garden! Have you any tips you could share with us? Powerscourt Garden Pavilion, Enniskerry, County Wicklow. Ph. 01-2046014.