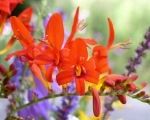 This week Horticulturalist Marianne Caplice from Powerscourt Garden Pavilion takes a look at Crocosmia Lucifer and how to grow this beautiful plant… A South African Native, Crocosmia Lucifer is a member of the Iris family. A spectacle in the garden in August, its fiery red flowers are unmistakable! The plant is aptly named 'Lucifer' because of these red flowers. The plant makes a stunning display and is very easy to grow. Follow Marianne's gardening tips for growing Crocosmia Lucifer in your own garden.
Our Top Tips for growing Crocosmia:
Tip 1: 
Crocosmia thrive in a warm south facing position but will also tolerate a partial shade
Tip 2: 
They prefer moderately fertile, well drained, rich soil
Tip 3: 
To maintain vigour, lift and divide clumps in early spring
Tip 4: 
Crocosmia Lucifer looks great planted with Dahlia Bishop of Llandaff and also with Canna lilies
Tip 5: 
Don't forget other Croscosmia varieties. Try the smouldering Crocosmia 'Emily McKenzie'; her blooms are a burnt orange with mahogany eyes. Or you could try Crocosmia 'George Davidson' which is a gorgeous yellow colour.
Tip 6: 
All the Crocosmia family make excellent cut flowers
Tip7:
 After your hard work, sit back and enjoy your garden!
If you have any questions on growing Crocosmia or any other plants, call into our Garden Pavilion and our staff will give you some insider tips! ***See our latest
plant special offers
***