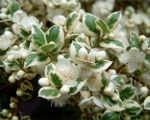 I sat down earlier in the week and had a chat with Head Gardener Michael Byrne about his favourite plants in the garden. It was hard to pin him down (he has many favourites!!) so here are a few he really enjoys to see at Powerscourt. We look forward to hearing more from Michael on the plants at Powerscourt soon!
Michael Byrne's September Picks
Myrtus Luma 
(Chilean Myrtle) "I love this plant because of its unique bark, unusual texture and red tint! I like how dense and small the foliage is. The best thing about this tree is that at the start of summer it produces an abundance of jasmine white flowers and the tree is covered from top to toe with flowers during all of the summer months. We have two particularly fine specimens in the gardens, one on the left of the Dolphin Pond and the other by the small fountain in the Japanese Garden."
Chilean Fire Bush 
(Embothrium) "This tree-like shrub grows vigorously in Ireland. It is not the most common of plants and is not often seen. It has beautiful, long elongated foliage with a pale green, waxy coat. This plant comes to life most during April and May. It is nicknamed the Chilean fire bush because it produces tall orange plumes during the summer months. You can see this plant on the Long Walk the next time you are in the gardens."
Winter's Bark
 (Drimys Winteri) "This tree was named after John Winter, a captain with Drake, who found on Tierra del Fuego that its bark, used as a spice by the Indians there, was a powerful medicine against scurvy, and brought some back in 1578. As well as its medicinal uses, it is also used as a substitute for black pepper! I love this tree because its unique and has such beautiful flowers. At the end of winter and the beginning of spring, the shrub is covered with the sweetest white flowers. Once you are within 1 or 2 metres of the plant you get the most glorious scent!"
Thanks again Michael! Until next time all, Aoife