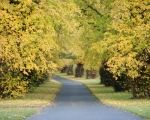 Autumntime is Gardentime!
There is a widespread belief that the gardening year is drawing to a close. The summer is ending, the children are going back to school, the dark evenings are on the way, temperatures fall and the long dreary winter beckons.
We sometimes forget that there is another season between summer and winter 
Autumn!
Autumn is the real beginning of the new gardening year.
Gardening in autumn is exciting, easy and rewarding!
After the summer the soil is at its warmest and it's much less likely to dry out. So conditions are ideal for the roots to grow and develop. All the action is taking place below the ground. Roots will grow and spread throughout the autumn and into the winter. By next spring the plant will have a very well developed root system that can draw water and nutrient from a wide area.
If you wait until next spring the plants roots will be confined to the shape of the pot and you will have to make sure that it is kept well watered until the root system establishes itself.
The autumn months of September, October and November are usually warmer than the spring months. Yet the vast majority of us continue to plant in the spring.
It's an exciting time because whether your garden is old or new, introducing new plants into the garden!
Trees, shrubs, roses, heathers, spring bulbs, lawns and most flowering plants are best planted in the autumn.
Powerscourt Garden Pavilion has great plant stocks at this time of year and our horticulturalists will help you with your choices and give expert advice.
Garden Designers and Landscape contractors can help you make the most of your outdoor space, and by engaging them you can avoid costly mistakes and achieve best value for your budget. Check out our garden design talk this Saturday (15th September) with top garden designer Tim Austen.
Bord Bia had just launched their autumn gardening promotion 'It's Garden Time' and we're delighted to take part with 
a series of free talks
available at the Pavilion. For further information on 
Autumn Gardening Events
 in your area, and what to do in the garden this Autumn, go to
www.bordbia.ie/gardentime
. There will be something for every level of gardener from beginners to gardening fans to enjoy. Supported by:
ALCI 
– Association of Landscape Contractors of Ireland
GLDA
 – Garden & Landscape Designers Association
GCAI 
– Garden Centre Association of Ireland
IHNSA
 – Irish Hardy Nursery Stock Association