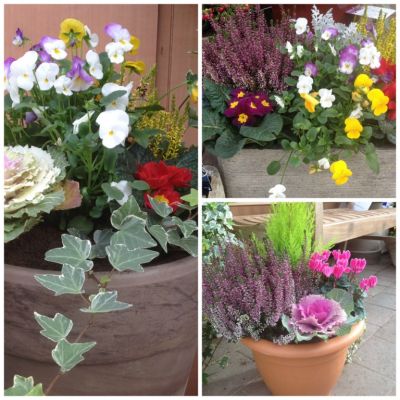 Garden To Do List
Well this is the coldest month so far and it's about time!  At least we are not waiting for it anymore! We still can be happy plant people and concern ourselves with our present garden as well as planning future garden changes. Here are a few suggestions to keep you focused. Pay attention to your garden as far as the weather is concerned.  Do certain plants need protection from wind or frost? Maybe some potted plants need to be moved to sunnier, more sheltered areas or covered with fleece. Check that already installed fleece is still secure and other stakes or ties are doing their jobs.  If it snows, keep an eye on whether the snow is weighing down limbs.  You may need to brush it off to avoid breakage.  On sunny days open greenhouse for ventilation.
If you are tired of your seed heads and grasses left for winter interest, it's okay to cut them back now. Old hellebore leaves can be cut back to expose flowers.  If you live in a lower more mild area you might still be able to lift and divide herbaceous perennials to change the design or increase your stock. For
seed sowing
, this is the last chance to sow ones that need frost to germinate and you can also sow your Begonia, Lobelia, Salvia and Pelargonium in HEATED greenhouses or propagators. Sweet peas sown in autumn should be potted on and placed in a sunny windowsill and you can sow them this this month too. Lily bulbs can go in borders on those mild days or planted in pots.
You can still plant roses and bareroot deciduous shrubs and trees.  Stake if needed and firm if lifted by frost or wind.  Keep weeds from the bases.
You can prune your deciduous trees, shrubs and hedges right now as the branches are easier to see. Leave the evergreens and the more vulnerable ornamental Prunus until spring. Although easier to see without the leaves, the tree wounds close faster in spring. Ornamental vines can be trimmed now. Dig over vacant plots for readiness in spring. Repair and re-shape
lawn edges
, especially around border beds.  Cut out problem areas in square and re-plant with damaged side inwards.  Re-seed or re-turf using turf from other not as viewed areas. Plan your vegetable rotations and start forcing rhubarb. Don't forget to
feed those birds
.  They are really going to need their winter fat! Enjoy January! Mary Weiss,
Horticulturalist
Powerscourt Garden Pavilion