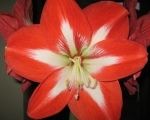 Our resident horticulturalist Marianne, who works at the Garden Pavilion, has some great gardening tips for adding some feisty red colour to your garden this winter.
Plant Amaryllis bulbs now for wonderful showy flowers in the house in December. They make a fantastic gift too.
When buying a bulb, pick one at least 3 inches (7.5cm) in diameter. Small bulbs will not bloom unfortunately! Make sure the bulbs are firm and free of small spots.
Plant the bulbs in a container with drainage holes. The pot should be no more than 2 inches (5cm) bigger in diameter than the bulb itself (the bulb prefers a tight root).
Plant the bulb in compost mix ensuring that one third of the bulb shows above the compost level. Water well. Do not water into the nose of the bulb as water here can cause it to rot.
Keep the bulb in a warm room at the early stages after planting. As the flower buds begin to form, cool the temperature a little to prolong flowering and keep in a bright but indirect light. The plant could now do with a feed :)
Following care instructions the bulb should flower within 6-8 weeks of planting.
How long the flowers last depends on the temperature of the room. The cooler the temperature the longer the bloom will last. As the flowers fade, cut them off to prevent them going to seed. When all the flowers have gone, remove the entire flower stalk.
It is best not to remove the leaves as they produce food so that the bulb can flower again next year. You can now treat as a normal houseplant. When it heats up again outside and the frost has gone put the Amaryllis outside for the summer. Around late July or so reduce watering so that the leaves die down, and when they are gone cut them off. Store the bulb at around 15ºC for 8-10 weeks. After that bring the bulb into a warm room and start the process again.
Experiment with other varieties of Amaryllis such as Amaryllis Hippeastrum Benfica (red) and Amaryllis Hippeastrum Ludwig Dazzler (white)
Good luck planting your own Amaryllis plants and do comment below if you have any top tips of your own! Until next time folks!
Pop into Powerscourt, your local Wicklow Garden Centre, and we would be happy to help you with any gardening advice!