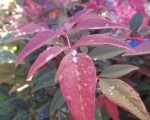 Our plant of the month is the 'Nandina Domestica', a beautiful plant native to Central China and Japan. It is said to have the power to dispel bad dreams. Leave the plant by your doorway, and if you awaken from a nightmare, whisper it to the plant so that no harm will follow! It is not actually related to the bamboo family, Nandina's closest relation is the Berberis family. Its' fine canes and airy foliage give it a bamboo like appearance.
It prefers acid to neutral soil. It will thrive in sun but it will also tolerate a partial shade. Make sure the soil is well drained as it dislikes waterlogged soil. This variety is quite tall, growing to approx 6ft and looks amazing as a specimen! It really has something for all seasons from emerging pink foliage to white flowers in summer, followed by green berries. Its' crowing glory, however, is the red flushed foliage and the red berries in the autumn. This large specimen will not suit all gardens but happily, beautiful dwarf varieties have been developed. Here's a few of our favourites:
Nandina Domestica 'Firepower'
A dwarf form of the Nandina developed in New Zealand. Growing to approximately 3ft, the new spring foliage is a beautiful lime green which darkens through the season and in the autumn. It puts on a show-stopping display of bright-fire engine red foliage all over. And best of all, it does not shed its leaves.
Nandina Domestica 'Flirt'
This new variety is wonderful as it holds its pink colour for most of the year. It is a smaller growing variety only reaching about 2ft with a similar spread.
Nandina Domestica 'Obsessed'
Another new variety which produces red new growth and holds its colours all year-round.
We hope you enjoyed our latest post. Please
subscribe to our newsletter
 to get the latest gardening advice and offers from Powerscourt Garden Pavilion, your local Wicklow garden centre. Happy Gardening!