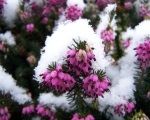 Here are our top tips for your December Garden! 1) Start planning next year's garden by reviewing last year's notes, organizing your planting for the coming year and ordering seeds ahead of time.
2) Keep your garden in colour this winter by planting bright displays of heathers and pansies.
3) Prune fruit trees such as pear and quince, outdoor vines, rose bushes and hedging.
4) Gather leaves for mulching or composting and give your beds, borders or lawn an extra boost for spring. You can also make compost from spent crops.
5) Harvest winter vegetables including kale, parsnips, leeks and Brussels sprouts.
6) This is an ideal time to plant apple trees. It is also a good time to plant rose bushes but make sure that the soil is not too wet.
7) Line your greenhouse with bubble wrap to avoid draughts and keep the heat in.
8)      Help birds find food easily this winter by keeping your bird feeder full.
9)      Tidy your shed and ensure your tools are in tip-top condition for the coming year.
10)   Make home-made Christmas decorations from holly, pine cones, twigs and evergreen prunings; they will look both rustic and authentic!
Good luck with your December gardening and we will talk to you soon!
Powerscourt Garden Pavilion Team