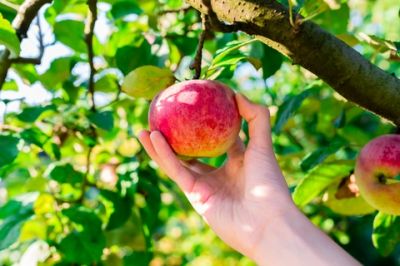 Keep Busy in the Garden this September
Keep harvesting crops. Where you have an endless supply of fruit and veg try freezing, drying, pickling, and storing so that you can benefit from them later on.  Spread newly dug potatoes out to dry for a few hours before storing them in in a cool dark place. Store them in paper or hessian sacks as this will allow the crop to breathe while it is in storage. Only store undamaged, disease free tubers - one rotten potato can ruin your whole crop!
Continue to feed and dead-head you're hanging baskets and container plants - they will often keep going until the first frosts. Fill gaps in borders with autumn flowering plants such as viola's & Pansies to extend the colour to the end of the season.
Sow a new lawn from seed- autumn weather is for good lawn establishment. Carry out essential lawn maintenance to avoid water logging and compaction. Try aerating your lawn with a garden fork, raking thatch from the surface and repairing dead patches. Feed your lawn with an
autumn fertilizer
, which is rich in potassium and low in nitrogen.
See you soon! Claire Hayes Manager, Powerscourt Garden Pavilion