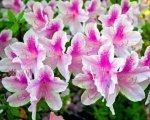 There are so many beautiful plants beginning to flower in March - golden daffodils, blue anemones, the gorgeous primula and the fragrant viburnum, but our favourite is the showy Azaleas which will be in flower towards the end of March.
The Azalea is so easy to look after with a vast array of colours available, great for pots or the open ground. Azaleas prefer a semi shaded spot in the garden and require acidic soil. If your soil is neutral add fir needles, sulphur, iron sulphate or coffee grounds to increase acidity. A heavy clay soil can be helped by adding fresh potting soil to improve drainage. Start a regular feeding prgram with a fertiliser for acid loving plants. A feed in the Spring just before blooming and again in late Summer should be sufficient. Ensure your Azalea is kept moist but not wet or water logged. Prune, if needed, directly after flowering.
Azaleas come in both evergreen and deciduous forms. Deciduous varieties such as Fanal, Gibraltar and Anneke are large about 5-6ft and extremely beautiful. Evergreen varieties tend to be smaller. Try varitietes such as 'Hatsugirl', 'Amoena', 'Vuyks Rosy Red' and the fabulous
"Mother's Day"
 which is very appropriate for this month. For the latest plant offers from Powerscourt Garden Pavilion,
visit our website