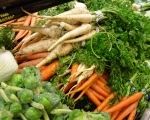 Kitty Scully from RTÉ's 'How to Create a Garden' tells Powerscourt Garden Pavilion readers about the benefits of starting your own veggie garden. Enjoy!
Starting Your Own Vegetable Plot!
"WHY"
 you may cry?? Imagine……. A supply of fresh, tasty, seasonal, air-mile free food at your doorstep! You can't really get much more local than your own back garden or balcony!! Knowing exactly where your food has come from and being assured that no nasty chemicals have come in contact with it or the soil it is grown in!
An abundance of freshly harvested food, teeming with nutrients, goodness and vitamins and free from un-biodegradable plastic packaging. Saving some of your hard earned money! Eg, a packet of organic rocket seeds costs approx €2.50 and contains thousands of seeds which in turn will grow kg's of rocket. Consider the cost of a mere 100g bag of organic rocket leaves!
Having a choice of hundreds of varieties of heirloom vegetables at your disposal, those not seen on supermarket shelves, such as yellow coloured tomatoes and purple podded peas! These will certainly brighten up plates and palates! The glow of healthy exercise and fresh air – all that digging, planting, weeding, harvesting and hauling in the great outdoors can only have a positive effect on one's physical and mental health! A well-kept vegetable garden is just as attractive as a bed of flowers. For a splash of colour, you could try mixing some flowers such as nasturtiums and calendulas into your vegetable garden. Both are pretty, edible, tasty and nutritious. An edible garden can add value to your home and be the perfect place for you and your family to picnic and hang out.
Educating children and showing them where their food comes from, not to mention furthering your own earth education and knowledge of plant physiology, insects – (the goodies and the baddies!), weather patterns, nutrition, soil science, etc. Sharing the fruits of your garden labour – a  homegrown garden gift such as a head of lettuce or bunch of onions may be a lot more appropriate than a packet of calorie laden processed biscuits! Connecting with family, friends, neighbours etc. to share gardening tips, advice, successes and failures. Gardening does not have to be a solo-act! Honouring the invaluable knowledge and wisdom of the older generation, as over 50 years ago, most Irish families relied solely on homegrown local veggies. An elderly friend or relative often can provide those invaluable garden tips gleaned from experience, superstition and good growing sense!!
And if that isn't enough:
Eating home grown foods is good for the environment.  The fewer trucks on the roads and freight planes in the air, transporting fruits and vegetables to our tables, helps save energy and fossil fuels, which is good for the earth, benefitting you and future generations. By
thinking, buying, eating and growing locally you are actually acting globally
! Next time, Kitty will give us her top tips for starting your own veggie garden at home.