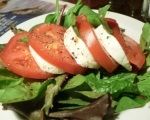 Some Popular Herbs: Culinary & Medicinal Uses - by Kitty Scully
1. PARSLEY: Use it in
: Fresh in tomato and other salads, as a garnish to soups and light poultry and fish.  Take care not to overcook it lest the herb lose its potency and color.
Pairs with
:  Carrots, parsnips, tomato, onion, garlic, mint, thyme, chives.
Medicinal Uses
: Parsley's medicinal effects rest in its volatile oils and flavonoids:  apiole, myristicin, terpinolene, appin and others.  These components also account for parsley's notable flavor.  Parsley is thought to offer therapeutic uses in the treatment of the urinary tract and is approved by Germany's Commission E – a therapeutic guide to herbal medicine – for use in the treatment of urinary tract infections as well as kidney and bladder stones.  Traditionally, parsley was not only used for treatment of urinary tract and bladder infections but also as an treatment for gastrointestinal distress.  Moreover, parsley is also used as a way to stimulate menstruation.
2. BASIL: Use it in
: Fresh in salads and dips, in soups or sauteed with greens and, classically, in pasta sauces.
Pairs with
: tomato, garlic, onion, cilantro, mint and fennel.
Medicinal Uses
: Basil has strong antioxidant and antimicrobial activity.  It is traditionally thought to stimulate the appetite and ease stomach upset.  In Chinese medicine, basil is thought to support kidney function and ease gum ulcers. In classic Indian medicine, basil has been used to treat everything from earaches and itching to malaria, arthritis and anorexia.  Like tarragon, one of basil's major volatile oils is estragole.
3. DILL: Use it in
: pickles, beet soups, fish stews and chowders, with cream cheese.
Pairs with
:  fish, cream, garlic, mustard seeds, coriander, parsley.
Medicinal Uses
:  Dill and parsley share a commonality: apiole, that volatile oil that accounts for so much of their individual flavors.  Dill is traditionally used to ease stomach upset and to treat gastrointestinal disorders.   In folk medicine, it is also used to treat sleep disorders – particularly insomnia. Some parents give a dill infusion or tea to their young babies as a treatment for colic.
4. LAVENDER: Use it in
: Teas, cookies, scones and sweets.
Pairs with
: Honey, oats, mint, rose.
Medicinal Uses
:  Lavender is used to treat loss of appetite, insomnia and circulatory disorders.  In folk medicine, it is often used to treat migraine, cramps, restlessness and sleep issues.
5. OREGANO: Use it in
: To flavor olive oil, in tomato sauces, to season lamb, in chilies, to season sheep's milk and goat's milk cheeses.
Pairs with
: Goat cheese, olive oil, lemon, saffron, garlic, tomato, marjoram, thyme.
Medicinal Uses
:  Oregano is traditionally used to treat respiratory issues such as stuffy noses and coughs and is an expectorant. In folk medicine, it is also used to treat menstrual cramping and it has very potent antimicrobial activities.
6. SAGE: Use it in
: Roast poultry and as a rub for pork.
Pairs with
: Roast meats. Beets. Cheddar and other sharp cheeses.
Medicinal Uses
: Sage is said to improve appetite and to ease inflammation, particularly of the mouth.   For nursing mothers who may be experiencing over-production, sage can help to slow milk production.
ROSEMARY: Use it in
: Roasts and herbal vinegars.
Pairs with
: Roast meats, potatoes and root vegetables,
Medicinal Uses:
Rosemary is traditionally used for digestive upset and to ease headaches and migraines.   It's also used to treat menstrual disorders and, externally, is used to speed healing in wounds and to treat eczema.  Rosemary for use in blood pressure problems, digestive upset and rheumatism. rosemary herbal hair teas, oil and rinses to stimulate my follicles and grow my hair longer and stronger.
8. MINT: Use it in:
Sweets and confections, whipped cream, fruit salad, tabbouleh, in lemon aoili, and as a garnishment to roast lamb.
Pairs with
: fruit, lamb, lemon, yogurt, marjoram.
Medicinal Uses
:  Mostly taken as a tea or in infusions, peppermint is traditionally used to treat colic and digestive upset, but it's also been popularly used in the treatment of colds, flus and stuffy noses thanks to its ability to open the sinuses and, in combination with honey, to ease a sore throat.   Peppermint essential oil, when applied to the temples, is thought to help with headaches and migraines.  Peppermint leaves have been approved in the treatment of liver and gallbladder complaints.
9. CORIANDER: Use it in:
Curries, salads, pestos or soups. Leaves, flowers and seeds used.
Pairs with
: peas, seafood, vegetables,spices,  cream and coconut milk.
Medicinal Uses
: Coriander is valued for its stimulating digestive and aphrodisiac powers. Taken internally, it is an excellent digestive, enhancing the appetite and improving digestion and absorption of nutrients. It has a cooling effect useful for fevers and hot inflammatory problems such as cystitis, arthritis, sore throats and skin rashes.
USEFUL ONLINE RESOURCES AND FURTHER INFORMATION ON HERBS
ENJOY GROWING, USING & PRESERVING YOUR HERBS….
Kitty Scully