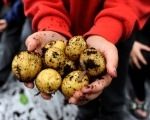 Part Two of Kitty Scully's great advice for 'Grow Your Own.' Kitty gave a fabulous talk at the Garden Pavilion yesterday. What a wonderful advocate for GYO! She had us all enthused and ready to get digging! Here are Kitty's top tips for getting started with your veg plot:
Start Small
No matter what plot size - window sill or sprawling countryside estate
 -  
it's better to start too small rather than too large! In order to enjoy your garden, it's good to feel you are in control of it and that it's not a big laboursome onus looming outside your window! My advice is to start small and to expand a little every year. It's always better to think that you could have done more than to let your plot get out of control and you get discouraged and give up for good! Remember you don't need lots of ground to start growing your own food - you could even start by growing herbs and salad leaves on your window sill and potatoes in recycled tyres on your back porch or balcony!!
What do you like to eat?
Grow what you like to eat – there's no point growing tonnes of turnips or loads of leeks if you don't cook or eat them! It's good to start with easy crops such as early potatoes, onions, courgettes, salads, peas. Radishes are a perfect fast-growing starter crop to encourage salad-lovers and children! Nothing like the sweet taste of success to encourage you to grow more and diversify!
Research
Do some research to find out what grows well in your area. Talk to older people and neighbours as they may be the source of a wealth of information! Once you start, you will be amazed at the amount of local knowledge that exists about food traditions in your area! Join local gardening groups, attend talks, workshops, visit allotments, community gardens, read gardening books, magazines, websites etc.
Planning
Autumn is a great time for planning next year's plot – mark off the area you intend to cultivate, lash on a good spread of farmyard manure (if possible!) and then cover with black plastic, cardboard, straw etc and enjoy the fruits of your labour next spring when a virtually weed free crumbly plot will await you! Don't forget to spend some cosy winter evenings by the fire, mulling over vegetable seed catalogues and envisioning your summer garden and more importantly your summer suppers!
Good Tools!                                                         
Treat yourself to good tools or drop subtle hints to your family and friends at times of special occasions!! It pays to purchase quality and remember: economising is about obtaining value for your money — not just paying the cheapest price!!
A Question of Time!
Gardening doesn't take a lot of time, unless you want to spend lots of time gardening! It is pretty simple if you provide good soil and have adequate sun and water. Plant, water, harvest, eat! Nature does most of the work! Don't make gardening into more work than it needs to be! Your garden doesn't need to be perfect. Most of all enjoy your plot, learn from your successes and failures, enjoy your harvests, share your bounty and be warned, vegetable gardening is contagious and addictive! Enjoy!