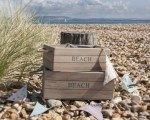 With such amazing weather at the moment, Ireland certainly feels like part of the Mediterranean! Even if the grey skies come back again you can still bring summer into your home and evoke memories of sunny days by the seaside by embracing a nautical theme in your décor, whether it's a beach house or not! Bring the spirit of the ocean into your home with the affordable new nautical accessories range from Wicklow Garden Centre, Powerscourt Garden Pavilion.
Our range of beautiful ideas for planning a 'seaside room' in your home
1. Beach Box, €26.99 by Gisela Graham
2. Keyholder, €23.99 by Landon Tyler
3. Powder Blue Boat by Alison Garden Land, €9.99
4. Driftwood Candle Set, €15.99 from Landon Tyler
5. Glittering lighthouse, €10.99 by Landon Tyler
6. Rustic Candleholder, €16.99 by Landon Tyler
7. Driftwood Fish, €13.49 by Landon Tyler
8. Doorstop, €17.99 from Gisela Graham
We have lots more nautical goodies and other homewares in-store.
Look forward to seeing you at the Garden Pavilion soon!
Powerscourt Garden Pavilion, Enniskerry, Co.Wicklow. Ph. (01) 204 6014.