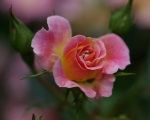 It is hard to believe that we have now come towards the close of 2013. It has been a mixed year in the garden! We almost missed spring with with the cold snap earlier in the year while the heatwave of the summer time meant many balmy summers evenings with the BBQ! It has been a wonderful year and we have enjoyed all four of the beautiful seasons at Powerscourt. Our events programme was bigger and better than ever in 2013! We had over 40 events at Powerscourt and a great turnout throughout the year. Thanks for supporting us and coming along! Let's look back at some of the year's highlights... We kicked off 2013 with some great gardening workshops and demonstrations with 'Rose Care'
in March
among one of our most popular workshops. We will have plenty more gardening talks and seminars to look forward to next year.
Kitty Scully is another firm favourite at Powerscourt and was here to get us all interested in grow your own. Her practical, down to earth advice and great sense of humour kept us entertained all morning!
We were thrilled to welcome florist and wonder woman Camelia Austen  to Powerscourt where she gave a fantastic floral demonstration on 'Gifts for Mother's Day' in March. Camelia's unusual creations left all of us inspired to try our hand and impress our mothers!
Floral guru Carol Bone was back with us again this year
at Easter
and is one of the highlights of the calendar at Powerscourt for many of our visitors. Here Easter Gifts were simply beautiful and more importantly, easy to re-create at home.
The Garden Pavilion staff love when  little ones get involved in gardening.
 Our Easter Gardening workshop
for kids was great fun and they enjoyed rolling their sleeves up and making Easter gift baskets to bring home.
The Bonny Bunny Competition made its debut this year at Powerscourt! All of our customers and friends were invited to bring along their bunnies and rabbits, with the bonniest taking home some wonderful pet prizes. It was great fun and the kids enjoyed their Easter treats and choccies.
One of the most popular events in the year was the service that we offered to customers to help fill up their old windowboxes and planters for them this summer. We got excellent feedback and hope to repeat the event next year. Our container gardening and summer bedding classes were also popular so thanks to the staff for all the wonderful talks this year at Powerscourt.
Following on from his 'Garden Design' workshop last year, Tim Austen offered free gardening consultancy on several different dates at Powerscourt. The 'Bloom Gold Prize Winner' is expert in his field and it was brilliant to have him on hand to help Powerscourt Garden Pavilion customers.
Dog trainer Samantha Rawson was at the Powerscourt in
May
to give an audience hints and tips on how to get their dogs to behave.  Important things for any owner to keep in mind are patience, an understanding of canine behaviour and psychology, and responsible dog ownership and safety.
Image copyright of The Bray People
We were honoured when Philip Mc Cabe, popular bee-keeper on 'The Mooney Show' gave a fantastic talk on his beloved bees at the Garden Pavilion in June. Philip once attempted a world bee beard record attempt, when he attempted to attract 500,000 bees onto himself!
We really enjoyed meeting customers, old and news, this summer at our Geranium plant giveaway at Superquinn in Bray where we gave away hundreds of Geraniums free of charge to customers as a little gift. They were all thrilled!
Being part of the Bray's First Food and Garden Festival was another highlight of the year. The weather was great, the seafront was buzzing and we had plenty of visitors to our stand! Roll on next year!
In September Niall Hatch from Bird Watch Ireland gave a wonderful talk on getting started with bird watching at Powerscourt Garden Pavilion. We would love for Niall to come back here in the future!
Back by popular demand this year, the Pumpkin Carving workshops at Powerscourt each Halloween  get more and more popular! Despite putting on an extra day and two more sessions, we were still sold out 2 weeks before the event! Well done to all the kids for the fantastic sculptures that they carved.
Our staff got into the festive spirit too! :)
We had a lovely evening at our Customer Appreciation evening to launch Christmas at Powerscourt Garden Pavilion in mid-November. What a fantastic turnout! We hope everyone enjoyed the spiced punch, chocolates and goodie bags. 
The wonderful Carol Bone was back again with us in November for more fantastic floral demonstrations. Her range of ideas and creativity meant all three mornings were well attended! Many thanks for supporting the children of Jackie Murphy at the event - you helped raise €1,400 for them which is just wonderful.
The animals at Powerscourt Stables are a firm favourite in our calendar! They will be here until December 23rd and are absolute cuties. Be sure to go along and see Santa's Deer, the Minature Donkeys and the Pygmy Goats with your little ones.
It's been a great year here for events. Thanks for coming along and keeping the Garden Pavilion a great place to visit and shop. A very Happy Christmas and look forward to seeing you all in 2014.