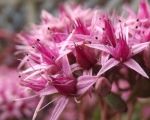 Sedums
One of the most dependable of all the late flowering perennials is the glorious Sedum. They are long flowering from late August to almost November. The succulent foliage of many types of Sedums is topped by starry flowers in late Summer. The low growing types are ideal for rock gardens whilst the taller versions are perfect for perennial borders. These perennials are also know as Stonecrop. These plants are sun lovers so choose an area of the garden with full sun to light shade and very well drained soil. There are many different types of Sedums and here are a few of our favourites!
Sedum 'Cloud Walker'
Cloud Walker is a hybrid that beautifully combines large mauve-pink blooms and dark tinted foliage. The blooms are clustered in a layered pattern reminiscent of clouds. Strong, sturdy green foliage and stems are tinted with maroon. Seed heads attract songbirds in winter. Pinch mid summer for a fuller plant.
Purple Emperor
The border varieties of Stonecrop are a dependable choice for the late Summer and Autumn garden, offering foliage interest earlier in the season, then a colourful display of flowers in the Autumn. The Purple Emperor introduces heads of dusty-rose flowers, over a mound of rich purple-black leaves.
Autumn Joy
This is probably the best known of all the Sedum varieties, a familiar sight when it begins to produce green broccoli-like buds in mid Summer, which gradually open into enormous dusty pink flower heads and finally deepen to rich bronzy-red. Even the dead flower heads have a good Winter effect. Plants may be pinched in June to prevent flopiness! The Autumn Joy is a great plant for encouraging butterflies to your garden and is great for border planting and rock gardens.
Care and Maintenance
Apply a thin layer of compost each Spring, followed by a 2 inch layer of mulch to retain moisture and control weeds. Only water these plants during Summer if there is not sufficient rainfall. Divde plants every 3 to 4 years as new growth begins in the Spring, lifting plants and dividing them into clumps. After the first heavy frost cut stems back to about an inch above the soil line. Until next time, Happy Gardening!
The Powerscourt Garden Pavilion Team